Artwork improvements
Linux Mint 21 features a superb collection of backgrounds from Aaron Thomas, Aaron Burden, Calin Stan, Constantin, Denise Bossarte, Dave Hoefler, Evgeni Tcherkasski, Erwan Hesry, Erik Skof, Fakurian Design, Hello Lightbulb, Mike Enerio, Marek Piwnicki, Navi, Paul Carmona, Pawel Czerwinski, Roger Bradshaw, Raphael Lopes, Samuel Ferrara, Steve Johnson , W and Zetong Li.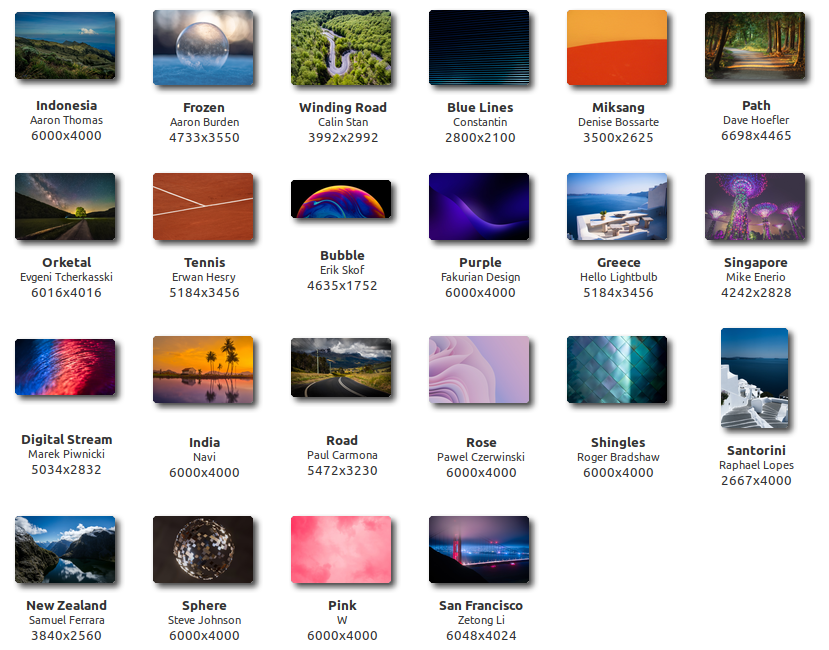 An overview of the new backgrounds
Initial GTK4 support was added in the Mint-Y and Mint-X themes.
The Mint-X theme was redesigned. It's now built on SASS and supports applications which use dark-mode.
Main components
Linux Mint 21 features MATE 1.26, a Linux kernel 5.15 and an Ubuntu 22.04 package base.
LTS strategy
Linux Mint 21 will receive security updates until 2027.
Until 2024, future versions of Linux Mint will use the same package base as Linux Mint 21, making it trivial for people to upgrade.
Until 2024, the development team won't start working on a new base and will be fully focused on this one.