Cinnamon 4.6
The performance of the Nemo file manager was improved. The new version tries to prioritize content and navigation and to delay thumbnails as much as possible. As a result, the content of directories shows up with generic icons before the thumbnails are rendered, but the improvement in performance is quite noticeable.
This also has a positive impact on performance in cases of heavy I/O and slow HDDS, such as when moving videos to external devices.
In the Display Settings, it is now possible to set the refresh rate.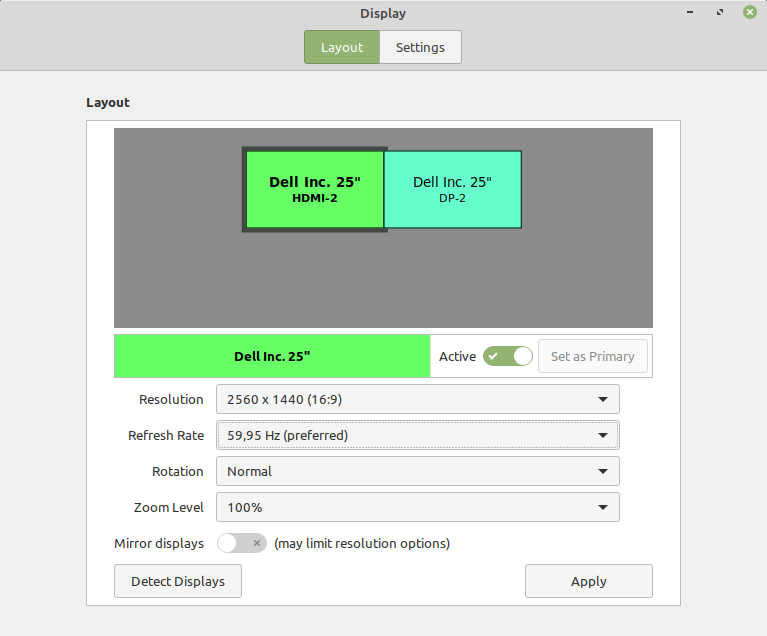 Fractional scaling in Cinnamon 4.6
Cinnamon 4.6 also introduces fractional scaling. Until now your scaling was either 100% (normal mode) or 200% (HiDPI mode) and it was the same for all your monitors. With Cinnamon 4.6 each monitor can have a different scaling and it can be set to values in between 100% and 200%.
In normal mode the resolution you set is the resolution you see. In HiDPI, at 200% scaling, the screen is showing twice the pixel density so everything looks sharper, but the resolution you see on the screen is only half the resolution of your monitor. Many HiDPI displays have a resolution which is actually quite small once HiDPI is activated.
Take a 13" Macbook Retina 2013. Its screen resolution is 2560×1600. That's too much for a 13" screen; Applications, text and desktop items look way too small. In HiDPI mode, the screen shows twice the pixel density and everything looks really crisp, but look what happens to the resolution… it gets halved to 1280×800. The problem then is that 800px is not enough in terms of screen space, and some applications don't even fit in it. A display like this one looks perfect in 1200px and that unfortunately means reducing the actual resolution to 1200px and not using HiDPI.
Another issue with HiDPI is multi-monitor support. You could plug an external monitor to this Macbook in the hope to stay in HiDPI on the laptop but to be in normal mode on the monitor. That wasn't possible before though, either all screens or none at all could be in HiDPI... and a non-HiDPI compatible screen set in HiDPI was just unusable.
Fractional scaling addresses these limitations. By being able to set the scaling for each monitor independently and allow for scaling values of not only 100% and 200% but also 125%, 150%, 175%, Cinnamon 4.6 tries to get higher pixel density and to allow HiDPI and non-HiDPI monitors to play well with each others.
In the example of the Macbook plugged to a non-HiDPI monitor, we'd typically set the Macbook to 150% and the monitor to 100%. Under the hood, the entire desktop environment would run in HiDPI mode, but the actual scaling of the Macbook screen would be reduced from 200% to 150% and the scaling of the monitor from 200% to 100%. We'd end up with a monitor which looks perfectly normal, and a Macbook screen which has a nice 1200px resolution and a "half-hidpi" 1.5 pixel density, which doesn't look as crisp as full-hidpi, but looks crisper than in normal mode.
Middle-clicking the keyboard applet cycles keyboard layouts.
Cinnamon screensaver supports custom commands, making it possble to use alternative screen lockers with Cinnamon.