Cinnamon 3.8
Linux Mint 19 ships with the latest Cinnamon 3.8.
Faster app-launching:
Cinnamon 3.8 feels snappier because it is faster and more efficient at launching applications and rendering new windows.
The development team investigated Cinnamon's performance and compared with many others.
Here's how Cinnamon 3.6 compared to Metacity when launching 200 windows:
Bottlenecks were identified in some applets and in the window manager. After changes were made to tackle these issues, the numbers went down and Cinnamon is now just as fast as Metacity to build the 200 windows and recover.
When launching a single application, the difference isn't as drastic and the original problem isn't as obvious. This gain in performance is however slightly perceivable and gives an impression of snappiness to the desktop.
In addition, the team took the opportunity to improve the window animations. Although they're not responsible for any delay, they also have an impact on comfort and perception. The new animations look cleaner and along with the performance improvements they make Cinnamon feel snappier than before.
Performance improvements:
Thanks to improvements in libnemo-extension and the way views are rendered, Nemo is faster at showing directory contents.
Nemo no longer lags when moving files over USB devices.
Improvements ported from GNOME reduce the occurrence of full stage redraws in Cinnamon.
Adjustable maximum sound level:
The maximum sound volume was currently set to 150%, with the sound settings allowing to go all the way to 150% while the sound applet and media keys only allowed a range of 0 to 100%. Cinnamon now lets you define what the maximum sound volume is, between 0 and 150%, and all sound controls (whether it's the sound settings, the sound applet or the media keys) now range between 0 and the maximum value you defined.

Adjustable maximum sound level
This allows you to quickly reach 150% without going into the sound settings, but also to quickly reach any arbitrary value, whatever suits your speakers and your environment, whether that value is higher than 100% for small speakers in loud environments or lower than 100% in quiet environments.
File search:
The Nemo search was simplified and is easier to use.
It's asynchronous and much faster than before.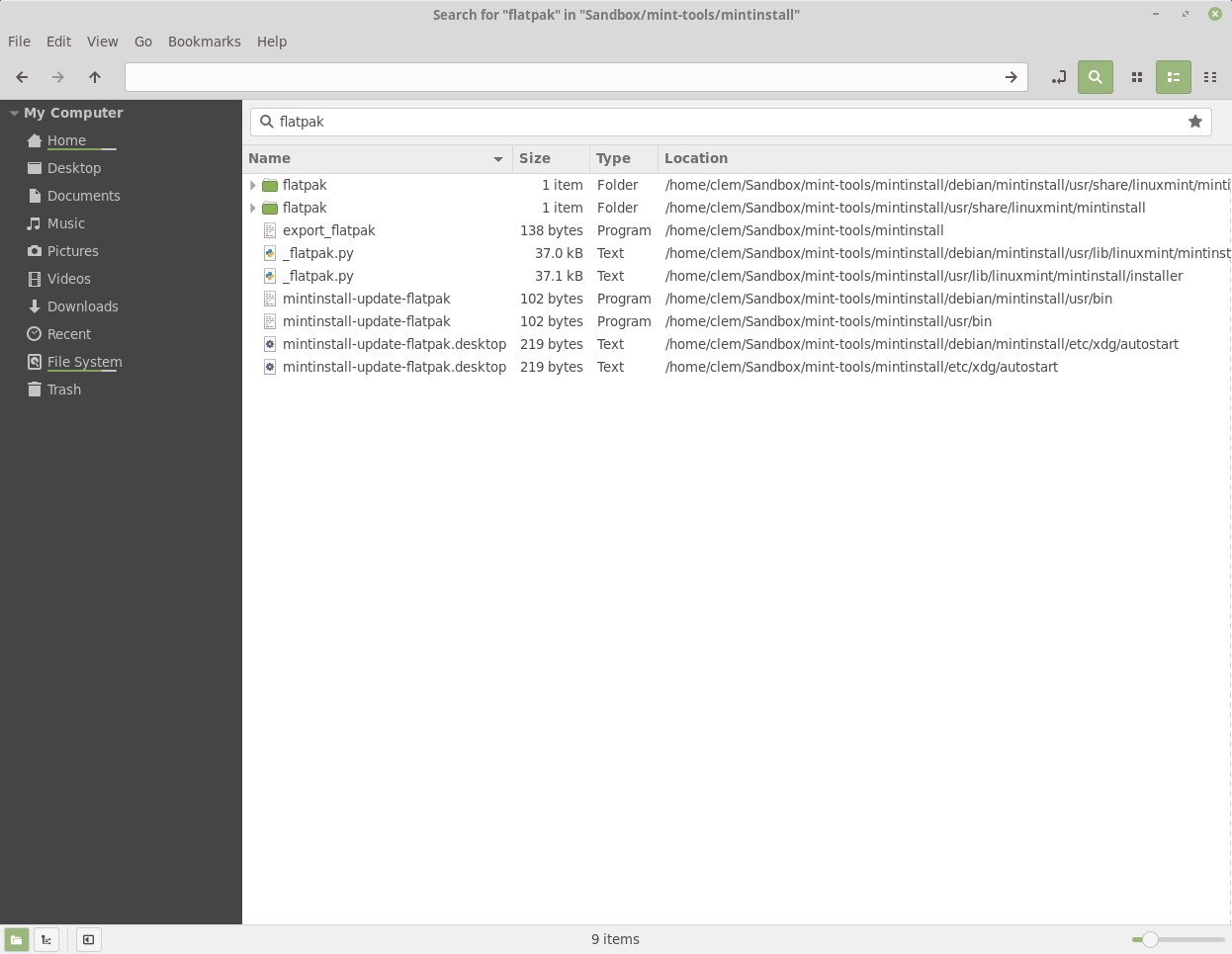 Better file search in Nemo
When performing a search you can click the star icon to remember it.
Right-clicking the star icon gives you access to your previously saved searches.
Notifications:
Notifications are smarter. They now have a close button (which unlike the notification itself doesn't send you towards the source application) and no longer fade-out on mouse-over.
To avoid notification spam, they're also limited in number per source and disappear when the application is focused, except for particular applications (Firefox, Chromium..etc) which use multiple tabs and which can send notifications for various internal sources.
Notifications can now also show at the bottom of the screen.
Look and feel:
Symbolic icons give Cinnamon a more modern look and better support for dark themes.
The coordinates and size of some widgets and components were adjusted to fall on exact pixels (which results in removing a slight blurriness and making them look crisp).
The quit dialog no longer skips the taskbar.
Other improvements:
Rubber-banding, which was previously only available in icon view, is now also available in list view.
You can now press Super+Alt (or use the right-click option on the Show Desktop applet) to quickly see your desklets, without minimizing your windows. When doing so, desklets move above your windows, until you click anywhere.
In the sound applet, the microphone and the speakers can now be muted separately. An option was added to choose whether or not to force the aspect-ratio of the album art. Tracks can be changed by scrolling left/right (that option is configurable).
CJS, the Javascript interpreter, was rebased on GJS 1.50.2 and now depends on mozjs52.
Support was added for elogind, systemd-timedated1 (which should replace ntp and ntpdate in Linux Mint 19 Cinnamon Edition), and the admin:// protocol.
Support was improved for GTK 3.22, CSD windows (in particular for their button layout and titlebar click actions) and LibreOffice (in nemo-preview).
With the exception of Nemo extensions, all Python components were ported to Python3.
The network settings were backported from GNOME 3.24 and include fixes from GNOME 3.26.
The region settings now support the ability to show uncommon/exotic keyboard layouts.
In the power settings, "Shutdown immediately" can now be chosen for closed lid and critical battery power events.
Cinnamon now activates the touchpad if no other pointing devices are present.
The screen is now locked synchronously prior to suspend.
Suspend, Hibernate and Screen rotation keys are now supported when the screen is locked.
Thumbnails can now be rendered for files as large as 32GB.
Scale/Overview can now be activated via dbus.
Xlets can now define column options when using lists, settings with dependencies now use a revealer, dependencies can now be inverted and defined on sections (not just widgets). Simple expressions using boolean operators can be used to compare values. The settings example applet was updated to showcase all these new additions.