Release Notes for Linux Mint 8 Helena Xfce
Introduction
This is Linux Mint 8 Xfce CE, codename Helena, based and compatible with Ubuntu 9.10 Karmic Koala and its repositories.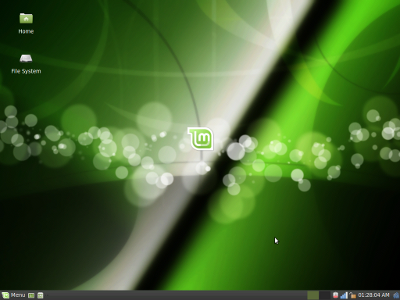 New features
Based on Xubuntu 9.10 Karmic Koala, Linux 2.6.31, Xfce 4.6.1 and Xorg 7.4, Linux Mint 8 "Helena" Xfce CE features a lot of improvements and the latest software from the Open Source World.
Featured improvements in this release: OEM installation, possibility to ignore updates, configurable menu places, multiple selection in the Software Manager, new system tray File Uploader with support for drag and drop and mutiple files uploads.
For a complete list of new features read: What's new in Helena Xfce?
Important links
System requirements
x86 processor
256 MB of system memory (RAM)
3 GB of disk space for installation
GA graphics card capable of 800x600 resolution
CD-ROM drive or USB port
Known issues
Windows installer
Because of compatibility issues between wubi/mint4win and grub2, Linux Mint 8 Xfce CE comes without a Windows installer.
Problems with Xfce mixer
The mixer doesn't set up the audio device automatically. You have to left-click on the panel plugin to set up the audio device. You also need to right click on the panel plugin to set up mixer plugin.
Small fonts
The default font size is set to automatic, but this may cause problems for some applications. The solution is to use a Custom setting of 96. You may still need to adjust the DPI if that's still too small.
fusion-icon and KDE packages
To make sure that installing fusion-icon doesn't install KDE, install compiz-gnome and compiz. Now when you install fusion-icon it won't pull in KDE packages. This shouldn't cause any problems as fusion-icon has the correct settings for Xfce.
Upstream issues
Linux Mint 8 Xfce CE is based on Karmic Koala. Make sure to read the known issues related to this release.