Release Notes for Linux Mint 8 Helena Fluxbox Community Edition
Introduction
This is the Fluxbox Community Edition for Linux Mint 8, codename Helena. This release has been built with the emphasis on a lightweight and yet fully functional desktop centered on the Fluxbox window manager. Even though we strive to provide out-of-the-box readiness for all your hardware and common computing tasks, Linux Mint Fluxbox CE is easily configurable to run on lower-spec hardware with the tools needed for doing so readily available.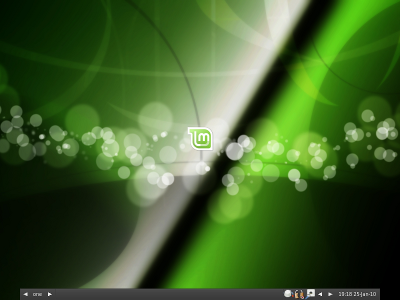 New features
Linux Mint 8 Helena Fluxbox Community Edition is based on Linux Mint 8 Main Edition, Linux 2.6.31, and Fluxbox 1.1.1. This edition was built with an emphasis on system resource optimization while still providing a familiar desktop experience. As a result the major new features are every bit as much what's not here as opposed to what is. This edition runs without any type of settings daemon to make better use of system resources and as a result, all of the system settings options have been changed to reflect this.
For a list of new features read: https://www.linuxmint.com/rel_helena_fluxbox_whatsnew.php
Important links
System requirements
x86 processor
256 MB of system memory (RAM)
3 GB of disk space for installation
Graphics card capable of 800x600 resolution
CD-ROM drive or USB port
Installing Linux Mint 8 Fluxbox CE
Fluxbox does not natively support desktop icons. In order to keep the system light we have opted to not install additional programs to handle this. The option to install Linux Mint 8 Fluxbox CE is at the very top of the main menu as well as in the "System" submenu.
Fluxbox key mapping and compositing
Default key mapping for Fluxbox is set up as follows:
Alt+Tab = Next window
Alt+Shift+Tab = Previous window
Alt+1/2/3/4 = Brings up the respective workspace
Ctrl+Alt+Left/Right Cursor Key = Cycle sequentially through workspaces
Ctrl+M = Brings up the menu
Alt+F1 = Brings up the terminal
Alt+F2 = Brings up the run dialog
Alt+F3 = Brings up the remaining battery percentage
Alt+F4 = Closes the current window
Super(Windows Key)+Tab = Toggles Show Desktop
Changing the wallpaper
The wallpaper can be changed through the right-click menu in the file manager, or with the following command in a terminal: fbsetbg -u feh -f /path/to/wallpaper
Changing the mouse speed
The mouse speed is adjusted through the "Simple Mouse" option in the "System Tools" submenu. It will open two dialog boxes, one right after the other requesting you set "acceleration" and "threshold".
Default artwork
Fluxbox style: Shiki style
GTK theme: Shiki-Wise theme
Icon theme: Minty Leaf
System sounds: From Feather sound set
Troubleshooting the Live CD
Always make sure the MD5sum is correct.
Always burn at the lowest speed possible.
Known issues
Default keyboard layout at login
The default keyboard layout you select when installing the system will remain for the login manager regardless of how you set it up in the "Simple Keyboard" option in the "Preferences" submenu. After logging in, the layout will be restored to the user's preferences but the login manager will retain the default layout regardless of how each individual user sets up their session.
Ogg Vorbis audio playback
Ogg Vorbis audio sometimes plays back a bit choppy. At present this is believed to be an upstream issue and we're looking into it.
Wubi/Mint4Win
Because of compatibility issues between wubi/mint4win and grub2, Linux Mint 8 comes without a Windows installer. The development team is working on the issue and new ISOs will be published when it is resolved.
Upstream issues
Linux Mint 8 is based on Ubuntu Karmic Koala. Make sure to read the known issues related to this release: http://www.ubuntu.com/getubuntu/releasenotes/910
Upgrade instructions
We are not recommending attempts to upgrade from Linux Mint 6 Fluxbox CE. Please back up your user data and perform a clean install.