Release Notes for Linux Mint 6 Felicia KDE Community Edition
Introduction
This is the KDE Community Edition for Linux Mint 6, codename Felicia.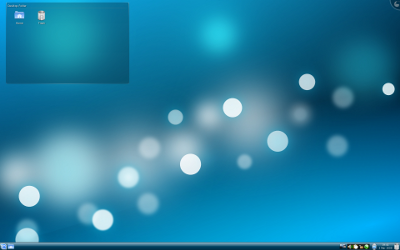 New features
This edition is based on Kubuntu 8.10 Intrepid Ibex, Linux 2.6.27, Xorg 7.4 and it comes with the latest KDE 4.2 and Amarok 2.0. For a complete list of new features read: What's new in Felicia KDE CE?
Important links
System Requirements
You need 256MB RAM to run the Live CD or install. To install, you need a minimum of 4GB of free space on your hard disk. Once installed, Linux Mint 6 KDE CE can run with 256MB RAM, but it is strongly recommended to have at least 512MB RAM.
Troubleshooting the Live CD
Always make sure the MD5sum is correct.
2nd Always burn at the lowest speed possible.
Known issues
OpenOffice.org 2 vs OpenOffice.org 3
Ubuntu decided to stick with OpenOffice.org 2.x in Intrepid due to the late release of OpenOffice.org 3.0 and the lack of exciting new features for this major release. After much consideration the decision was taken neither to pin nor to maintain the related packages. Linux Mint will therefore follow Ubuntu and provide the same packages for OpenOffice.org.
Upstream issues
Kmail (from the repositories) does not work with this version of KDE. To fix the problem, you need to enable the KDE PPA repositories in /etc/apt/sources.list and upgrade KDE to version 4.2.2.
KSCD doesn't integrate well with other applications. The KSCD developers developed a new GUI and only provided a few skins to show that it worked. Although KSCD is skinnable, no quality skins have been produced by the community yet.
In System Preferences, Network Settings doesn't open. This is an upstream bug which got fixed in kdeadmin version 4:4.2.1-0ubuntu2. To solve this issue, you need to enable the KDE PPA repository in /etc/apt/sources.list and upgrade KDE to version 4.2.2.
Linux Mint 6 is based on Ubuntu Intrepid Ibex. Make sure to read the known issues related to this release.
Upgrade instructions
If you are running Linux Mint 6 KDE RC1 you do not need to perform an upgrade. KDE 4.2.2 is present in the Kubuntu PPA repositories (at the end of your /etc/apt/sources.list file) but we do not recommend you take the risk to upgrade to it.
Note that the metapackage mint-meta-kde has dependencies on KDE 4 packages, which are only accessible at this time via the PPA repositories.