Release Notes for Linux Mint 6 Felicia Fluxbox Community Edition
Introduction
This is the Fluxbox Community Edition for Linux Mint 6, codename Felicia. This release has been built with the emphasis on a lightweight and yet fully functional desktop centered on the Fluxbox window manager. Even though we strive to provide out-of-the-box readiness for all your hardware and common computing tasks, Linux Mint Fluxbox CE is easily configurable to run on lower-spec hardware with the tools needed for doing so readily available.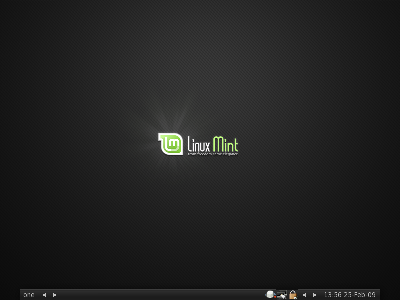 New features
Linux Mint 6 Felicia Fluxbox Community Edition is based on Xubuntu 8.10 Intrepid, Linux 2.6.27, Fluxbox 1.0.0 and Xorg 7.4. Included is an all-new menu system, Mint-FM2, Slim as a display manager, Live CD features that should make it easier to install on low-end machines, a brand new "Software Manager", FTP support in mintUpload, proxy support and history of updates in mintUpdate, mint4win (a Linux Mint installer for Microsoft Windows), and much more minty goodness. For a complete list of new features read: What's new in Felicia Fluxbox CE?
Important links
System Requirements
x86 processor
128 MB of system memory (RAM)
2 GB of disk space for installation
VGA graphics card capable of 800x600 resolution
CD-ROM drive
Fluxbox key mapping and compositing
Default key mapping for Fluxbox is set up as follows:
Alt+Tab = Next window
Alt+Shift+Tab = Previous window
Alt+1/2/3/4 = Brings up the respective workspace
Ctrl+Alt+Left/Right Cursor Key = Cycle sequentially through workspaces
Ctrl+M = Brings up the menu
Alt+F2 = Brings up the run dialog
Alt+F4 = Closes the current window
Super(Windows Key)+Tab = Toggles Show Desktop
Ctrl+Alt+Escape = Runs xkill (Click on a window to force closing of an application)
If your system has 3D acceleration enabled, Fluxbox will automatically start xcompmgr which provides some fancy compositing effects. If you wish to disable these effects, comment out the following line in ~/.fluxbox/startup with '#' at the beginning of the line.
#start xcompmgr if direct rendering is enabled
/usr/lib/linuxmint/mint-fluxbox-default-settings/xcomp-toggle.sh &
Default artwork
Fluxbox style: Modified Elfin2 style
GTK theme: Modified Elfin2 theme
Icon theme: Modified Oxygen-Refit 2 - Green version
System sounds: From Feather sound set
Troubleshooting the Live CD
Always make sure the MD5sum is correct.
2nd Always burn at the lowest speed possible.
Known issues
OpenOffice.org 2 vs OpenOffice.org 3
Ubuntu decided to stick with OpenOffice.org 2.x in Intrepid due to the late release of OpenOffice.org 3.0 and the lack of exciting new features for this major release. After much consideration the decision was taken neither to pin nor to maintain the related packages. Linux Mint will therefore follow Ubuntu and provide the same packages for OpenOffice.org.
gnome-themes-extra conflicts with mint-artwork-gnome
The upstream package gnome-themes-extra conflicts with mint-artwork-gnome. Both packages provide the Gion icon set. If you want to install the icon sets contained in gnome-themes-extra you need to install them manually.
Atheros ath5k wireless driver not enabled by default
The version of the ath5k driver for Atheros wireless devices included in Linux 2.6.27 interferes with the use of the madwifi driver for some wireless devices and as a result has been disabled by default. Many Atheros chipsets will work correctly with the madwifi driver, but some newer chipsets may not, and the madwifi driver may not work with WPA authentication. If you have an Atheros device that does not work with madwifi, you will want to install the linux-backports-modules-intrepid-generic package, which includes an updated version of the ath5k driver. While not installed by default, this linux-backports-modules-intrepid-generic package is included on the Linux Mint 6 Fluxbox CE CD image for ease of installation. These packages are also included in the APT cache in the Live CD environment should you wish to install them.
Upstream issues
Linux Mint 6 is based on Ubuntu Intrepid Ibex. Make sure to read the known issues related to this release.
Upgrade instructions
To upgrade from Linux Mint 6 Fluxbox RC1:
- Install all level 1 upgrades, accepting all changes (especially by slim).
- Upgrade Brasero to the Intrepid backports version.
- Delete the following files/folders in the user's home directory:
~/.fluxbox
~/.mint-fm2
~/.config/Thunar
~/.config/xfce4
~/.gtk-bookmarks
- Logout and Log back in.