Release Notes for Linux Mint 5 Elyssa x64
Introduction
This is Linux Mint 5 x64 Edition, codename Elyssa, based and compatible with Ubuntu Hardy and its repositories.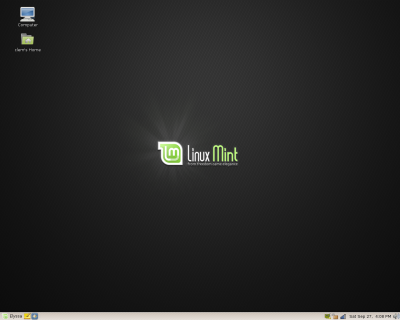 x64 is a brand new edition of Linux Mint. All the features and improvements introduced into Linux Mint since the start of the project were re-implemented on top of a modern Ubuntu Hardy base. Our packages were recompiled to support the X86_64 architecture, media codecs were added and plugins were coupled with a 64 bit version of Firefox 3.
The purpose of the x64 edition is to prepare the ground for the slow transition towards a 64 bit standard. Although most software applications are better tested and more often packaged for i386 the hardware landscape has already changed and almost all new computers available in retail stores nowadays feature 64 bit processors and in some countries close to 4GB RAM. To prepare for this the Linux Mint project is launching the x64 edition with an aim to be as close and similar to the Main edition as possible. x64 will bring to 64 bits CPU owners a desktop which is as user friendly as our Main edition and which takes full advantage of the capicity and performance of their system.
Depending on the hardware the difference between Main and x64 can be more or less significant. We're hoping reviewers and beta-testers will perform benchmarks and publish them.
From what we observed the performance results were comparable between the two editions:
| Test | Main edition (i386) | x64 edition (amd64) |
| --- | --- | --- |
| Hardinfo's fibonacci test (in seconds, lower is better) | 4.34 | 4.99 |
| Hardinfo's MD5 test (in MiB/s, higher is better) | 63.95 | 49.7 |
| Hardinfo's SHA1 test (in MiB/s, higher is better) | 74.7 | 75.6 |
| Hardinfo's Blowfish test (in seconds, lower is better) | 16.57 | 16.88 |
| Hardinfo's FPU Raytracing test (in seconds, lower is better) | 22.74 | 10.87 |
| LiveCD boot time (lower is better) | 2'34.2 | 2'00.3 |
| Installation time (lower is better) | 6'25 | 5'38 |
| 1st boot time (lower is better) | 0'25.6 | 0'27.3 |
| 2nd boot time (lower is better) | 0'27.0 | 0'28.6 |
| From GDM to a fully ready desktop (tomboy and mintMenu fully loaded, lower is better) | 0'15.3 | 0'15.4 |
| Glxgears without 3D driver (in FPS, higher is better) | 230 | 240 |
| Glxgears with 3D driver (in FPS, higher is better) | 2890 | 2890 |
| Urban Terror with 3D driver (in FPS, higher is better) | [67-93] average: 80 | [70-90] average: 86 |
MD5 was surprisingly faster under Main than under x64. Most other tests showed similar results with the exception of the live environment (liveCD boot and installation time) and image/3D processing (FPU Raytracing and Urban Terror) which were noticeably faster under x64.
The desktop also felt snappier and more responsive under x64, especially launching and switching between applications felt faster. Further benchmarks might confirm this in the future. Although i386 is still the standard architecture in software design the trend is rapidly moving and amd64 will quickly become the center of attention for developers and software editors. As software editors start to take advantage of this architecture and computer users acquire more RAM we'll see performance under amd64 raise further and outperform 32bit architectures like i386. This is not the case yet, or if it is it's not that noticeable at the moment, but here we are with a 64 bit desktop, which can address more than 4GB RAM and feels snappier than ever.
Firefox 2 (not installed by default) doesn't show "Linux Mint" in its user agent.
On some of our test computers the boot option "irqpoll" was required to prevent the liveCD to default to "busyBox".
If you're using a Linksys WSUSB54G wireless device, leave it unplugged, launch "Windows Wireless Drivers" from the menu and register the mintWifi driver found in /usr/lib/linuxmint/mintWifi/drivers/amd64/WUSB54G/rt2500usb.inf. You can then plug-in the device and it should work fine from then on.