Release Notes for Linux Mint 5 Elyssa Fluxbox
By Shane Joe Lazar
Introduction
This is the Fluxbox Community Edition for Linux Mint 5, codename Elyssa. This release has been built from the ground up based on the Ubuntu Hardy repositories with the emphasis on a lightweight and yet fully functional desktop centered on the Fluxbox window manager.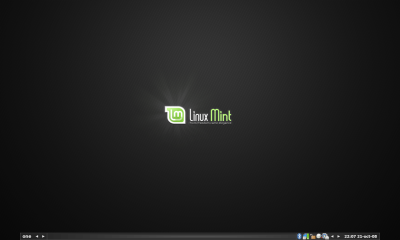 mint-mfm: The most radical feature of Linux Mint Fluxbox CE is the auto-generated and auto-updating Fluxbox menu! Simply put, gone are the days when using Fluxbox meant you had to manually build/edit your menu. Installing or uninstalling, mint-mfm will take care of the menu for you! However, if you still wish to manually edit your menu, you can, and your modifications will remain intact through menu updates. You can even enable or disable menu icons with a click of a button in mintDesktop! Credit goes to Sayan of the March Linux project for the core of mint-mfm.
Full Desktop Environment functionality: Linux Mint Fluxbox CE tries to strike an ideal balance between low resource usage and GUI functionality. Hence, GUI tools have been included wherever possible to give an experience to match a full blown Desktop Environment such as Gnome or XFCE.
Minty Goodness: The Linux Mint specific applications you have come to know and love are all included.
mintInstall
mintWifi
mintUpdate
mintAssistant
mintUpload
mintBackup
mintConfig
mintDesktop
Multimedia compatibility: As you have now come to expect from a Linux Mint release, Linux Mint Fluxbox CE comes with all available codecs and plugins preinstalled so that you can enjoy your media out of the box be it on your machine or online.
Thunar custom actions: Many custom actions have been added to make the use of Linux Mint Fluxbox CE a more pleasant affair.
md5sum-mint: A simple tool for quick and easy calculation of MD5 Checksums
Simple printing of files
Folder sharing over Samba
Upload to the mintUpload service
Archiving
Browsing as root
Searching in a specified location
Easy installation of True Type fonts
Easy creation of symbolic links
Better language/localization support: With the Elyssa family of Linux Mint releases, language support has been a major focus. All Mint tools were internationalized and are being actively translated by the community.
Look and feel: Attractive themes have been chosen to give this release a sharp and pleasant look with a predominant green bias.
Fluxbox style: modified MurrinaFlux style (by Hund)
GTK theme: custom MurrinaMintFB theme using the Murrina engine
Icon theme: Delta Green (by rodofr)
Backgrounds and GDM themes: Elyssa defaults (by Jernau)
Sound theme from the Ubuntu repositories
Minimal resource usage with maximal functionality and stability is what decided the selection of software bundled with Linux Mint Fluxbox CE.
Internet:
Firefox 3 web browser
Pidgin instant messenger
Sylpheed mail client
Transmission bittorrent client
Wicd network manager
XChat IRC client
Chestnut dialer for dialup connections
GPRS EasyConnect for GPRS connections
Office:
Abiword word processor
Gnumeric spreadsheet application
Orage calendar application
Multimedia:
Mplayer movie player
Media Player Daemon with Gnome Media Player Client
Brasero disc burning application
Grip audio ripper
Graphics:
The GIMP
GPicView image viewer
Accessories:
Thunar file manager
Mousepad text editor
XFCE4 Terminal emulator
Tilda terminal emulator
Catfish search tool
XFCE print tools
FuseSMB tools for file sharing
System tools:
Gnome System Monitor
Conky system monitor
Synaptic package manager
EnvyNG for easy installation of NVIDIA and ATI graphic card drivers
Bluetooth-gnome
A selection of XFCE and Gnome tools
Media Player Daemon (MPD) is set up by default to include the user's ~/Music directory in its library. In order to play music with Gnome Media Player Client (GMPC) you will have to copy your music collection to your ~/Music directory or create a symbolic link to your collection in your ~/Music directory. Then right-click on 'Browse Filesystem' in GMPC and click 'Update'. The MPD library will update and your collection will now be available in GMPC. MPD will not play files not included in the library. For this, use Mplayer movie player.
The default key mappings for Fluxbox has been setup as follows:
Alt+Tab = Next window
Alt+Shift+Tab = Previous window
Alt+1/2/3/4 = Brings up the respective workspace
Ctrl+M = Brings up the menu
Alt+F4 = Closes the current window
Hopefully this will make transitioning to Fluxbox for new users more trouble free.
Enabling or disabling menu icons for the menu will delete the current menu and regenerate a new one. Any custom changes made to the auto-generated section of the menu will be lost.
On Quiting, Shutdown, Reboot, Suspend and Hibernate will prompt the user for an admin password. In order to disable this, grant the user privileges in sudoers to run shutdown with no password.
mint-mfm, the auto-updating menu system is still under development. The following issues remain unresolved:
It does not support localizations yet. A complete rewrite is needed and is in the works for a future release.
Some auto-generated menu entries may not be functional especially those that are run with options that include '%' (e.g. %F). Fluxbox does not know how to handle these and mint-mfm removes these options by default.
The icon searching algorithm is not the greatest, so some applications will be assigned a stock icon.
Due to difficulties in getting Fluxbox to work well with PulseAudio, Linux Mint Fluxbox CE uses ALSA by default. This may require you to change default configurations when other applications are installed from the Ubuntu repositories. A notable application here is VLC.
Opening downloaded files directly from Firefox 3 has been fixed as much as possible. However, Firefox 3 sometimes fails to find helper applications that exist on the system. Currently known ones are opening MP3s with Mplayer and text files with Mousepad.
An error message sometimes pops up (or is output to the terminal if run from terminal) concerning the icon theme being used. It does not affect the running of applications. Simply close the error dialog with Alt+F4 (for lower resolutions the close button is off the screen).
1st Always make sure the MD5sum is correct.
2nd Always burn at the lowest speed possible.