Download Linux Mint 5 Elyssa LTS
Information
Our latest LTS release is Linux Mint 5, codename "Elyssa", revision 1. "LTS" stands for "Long Term Support" and Linux Mint 5 LTS will be maintained and supported until April 2011. By using an LTS release you can stay up to date and receive the latest updates without having to upgrade your operating system with each new release of Linux Mint.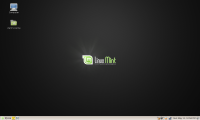 Read the Linux Mint 5 LTS User Guide (3.8MB)
Choose an edition
Main Edition
Choose this edition if you're new to Linux Mint or not sure which edition to choose.
Light Edition
This edition aims to provide the same features as the Main Edition without including proprietary software, patented technologies or support for restricted formats. If you are planning to distribute Linux Mint in Japan or in the USA then choose this edition.
x64 Edition
This edition supports the X86_64 architecture and it is optimized for 64bit processors. Note that the Main Edition (which is 32bit) is usually more stable and it also supports 64bit processors.